Goosebumps. Been waiting years for these and they do not disappoint.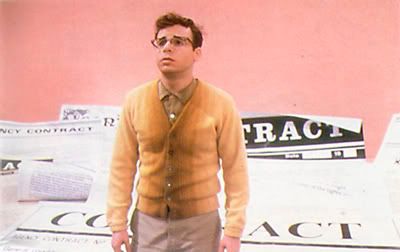 https://vimeo.com/55962892
http://vimeo.com/56290221
I've written the uploader to request a full quality leak.
http://fuckyeahlittleshopofhorrors.tumb ... ted-scenes
Ha - "Some Fun Now" is obviously "You Never Know" in the "alternate orchestration."
One of these cut scenes is extremely similar to the reshot ending, ending all arguments that the original cut wasn't far superior.
They cut a little too much out of the workprint ending especially at the beginning, but it certainly works in shorter form.
Justin Hoskie writes:
While working on DAD, I got an e-mail on my DAD account with the subject line "Regarding the Little Shop of Horrors movie." I never use this email account for any trading of any kind, so I opened it, thinking somebody had sent some forgotten film demo or recording for me to upload. I opened it, and it said in a nutshell, "I'm trying to get the word out to others that somebody uploaded these Little Shop deleted scenes. Here are the links, enjoy." I checked the links, making sure they weren't for some virus, and, just to be safe, I opened them on my phone. I then had what I call a "Holy. Crap." moment.

The scenes are in two videos, and includes cut lines, alternate shots, extended jokes and scenes, the "final approved cut" of the original ending (with sound-effects, and Levi Stubbs laughter), and the cut verse of The Meek Shall Inherit.

I'll repeat that last one: SEYMOUR'S CUT VERSE IN MEEK SHALL INHERIT THAT EVERYONE WOULD GIVE AN ARM AND A LEG TO SEE AND WE ALL THOUGHT WAS LOST FOREVER! According to the uploader, they're from "the only workprint ever shown to preview audiences." I'll try and find out more about it, but right now, who cares. They exist and we can watch them

Excuse me while I go dance in the streets and do 1000 consecutive cartwheels.
roflolbbq111 wrote:
Neither Frank Oz nor the entire Warners team bothered including the full version of The Meek Shall Inherit, the original feeding scene, or the original proposal scene in their re-release of Little Shop of Horrors. But it's not like some random internet guy can just find them, right?

Frank Oz is talented, but let's face it: he doesn't care that much about the project. If he did, he would've found this footage before Random Internet Guy #308,972 did.

I'm both overjoyed at the footage and a bit enraged that Oz couldn't find what appears to have just been lying around in some film archive.
Welp, time to make my own definitive cut.

If he worked in the film industry, couldn't he have given this to Warner during their search for footage?

And before you tell me "the quality is too low to include it", it's not like they needed to save room for more important things. There was plenty of room for more bonus features on the sparse Blu-Ray disc we got. If Warner knew about these scenes but chose not to include them, that means they're worse than incompetent: they're dicks."
Justin Hoskie wrote:
Again, I think WB may have found this, and maybe even copied it, during their search for negatives, but they didn't do anything with it because they found everything they were looking for and didn't need it.

Remember, their goal was to get the original ending in color. They weren't focusing on anything else. Since, from the looks of it, everything from the original ending in this mysterious workprint was found in color negative form, they didn't need to use anything in here, so they may have just set it aside for possible use and restoration later.

And, again I say, this may be the only copy of this footage that exists, and the quality is terrible. It would've been nice for them to include it, but we have to remember that Little Shop is, for the most part, a cult movie. The only interview I saw anyone do for the release was Frank Oz on Colbert, and that was almost three months after the release. The fact that they restored the original ending still amazes me. I don't think they expected to make that much money off of the release, so they only did the, for want of a better term, bare minimum of what they had to do. This isn't something like The Wizard of Oz, which always gets a wonderful, multi-disc release every five years. This is a cult movie. I don't like it, you may not like it, but it's the truth. They probably put money into what they needed to, the restoration of the original ending, and didn't put money into what was frivolous.

Also, there is the possibility that this was found too late to include it in the release. If this was found before, why didn't the restoration team at WB try and use some of the Levi Stubbs laughter from the original ending excerpts? It's entirely possible that it was found in somebody's garage after the contents of the Blu-Ray had been set in stone, and it'll be included in any future releases. And again, the two main cut scenes are just not super good.

Don't get me wrong; I know how you feel. If someone found an old, faded, B&W preview copy of Wizard of Oz tomorrow that included "The Jitterbug" and the
"Over the Rainbow" reprise, and WB didn't include the footage, in some form, on the next release, I would be pretty irked. But, remember, neither of us were there when the Blu-Ray was being put together, so we don't know why this footage was left off. It's entirely possible that they found all of this stuff in color negative form and decided to be dicks about it. It's entirely possible they found this too late to include it, and decided to save it for a possible restoration and release at a later date. It's also entirely possible this guy found it in somebody's garage a few weeks ago. We weren't there, so we don't know and we can't say for sure.

Also, just from how well the entire thing is edited, I'm willing to bet this Random Internet Guy is, in some capacity, in the film industry. Much like Garrett Gilchrist; I wouldn't call him a Random Internet Guy, and he's released the best fan-edit of all time.
That means a lot to me, thank you.
And by the way, I haven't "released the best fan-edit of all time" … not yet. We're still working on it. The Thief and the Cobbler: Recobbled Cut Mark 4, that is. And our goal is definitely to create something very special.
And while I'm at it:
http://www.youtube.com/watch?feature=pl ... tYxORbajSc
http://www.youtube.com/watch?feature=pl ... 2h8AXm9dqo
http://fuckyeahlittleshopofhorrors.tumb ... f-broadway
http://www.youtube.com/playlist?list=PLD9927223E47151C5
http://www.mediafire.com/view/?b0dgzhlijqcezh0
http://roflolbbq111.tumblr.com/post/327 ... ry-updated
http://roflolbbq111.tumblr.com/post/216 ... tant-to-me
All the deleted stuff makes it explicit that this is a tale of how a good man is gradually corrupted into doing terrible things, and in The Meek Shall Inherit he specifically makes the Faustian bargain to keep Audrey II alive to retain the love of Audrey I. Although we like and sympathize with Seymour, he is a killer, and he knows it, and there are terrible consequences for that. The final film was softened to try to make Seymour seem more blameless, and in doing so that arc loses all meaning.